Early Literacy
At Stillwater Public Library, we integrate the five practices and six skills as outlined by Every Child Ready to Read. Research supports that practicing these essential concepts helps prepare a child to read when they reach kindergarten. The great news is that you're probably already doing these at home.  
Every time you talk, sing, read, write, and play with your child, you are building vital connections in their growing brain.
TALK
Talk with your child every day and let them join in. Ask questions that require an answer other than yes or no and then wait for them to answer. Children need more time to formulate responses. 
SING
Singing slows language down and allows children time to hear the different parts of words. They also experience rhythm. When children sing, they're learning new vocabulary words, too. 
READ
Surround your home with books and read out loud to your child. It's the best way to prepare their brains for learning about language. Picture books contain words that children don't often hear in everyday conversation. 
WRITE
Reading and writing are learned at the same time! Activities that encourage hand, wrist, and finger movement build fine motor development to help with strength and pencil grip needed to write. 
PLAY
Children learn about how the world works at playtime. They use their imaginations and language to problem solve and act out real situations while thinking symbolically.  
In addition to the five early literacy practices, six basic skills help prepare your child for kindergarten by building a strong foundation for learning. 

Print Motivation: Being interested in and enjoying books
Print Awareness: Noticing print everywhere, knowing how to handle a book, and knowing how to follow the written word on the page
Letter Knowledge: Knowing that letters are different from each other, knowing letter names and sounds, and recognizing letters everywhere
Vocabulary: Knowing all kinds of words
Phonological Awareness: Hearing and playing with the smaller sounds of words
Narrative: Describing things and events, telling stories, knowing the order of events, and making predictions
The library's youth services staff have created a variety of videos and activities to help your youngest learners prepare to read. Check out the library's YouTube channel or Facebook for more early literacy videos and other archived programming.
Early Literacy Tips & News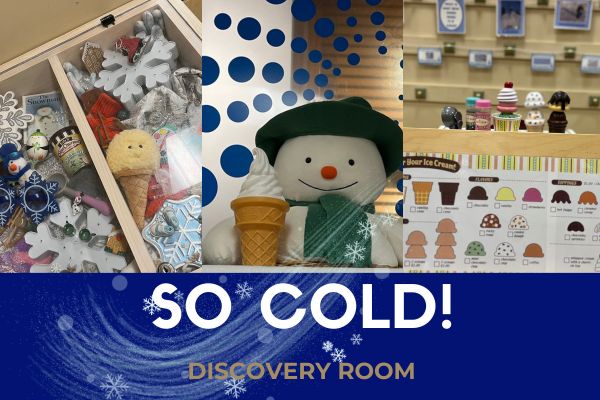 December 2023 - February 2024: The Discovery Room is ready for imaginative play centered around the wintery theme of "so cold" - snowflakes, snow friends, icy winds, and, of course, ice cream! Children can play ice cream parlor as they scoop, serve, and sell sweet...