Children (Ages 5-12)
Make learning fun! Explore read-alike book picks, join in scavenger hunts and library programs, or tap into homework and project help.
Children's Programs
Join us for art classes, STEM activities, storytimes, and more. Check out our upcoming library programs.
Homework Help
Get help with a tough assignment or dive deeper into a topic with our homework resources.
Book Picks and Reading Lists
Try our kid-centered book lists and picks. From read-alikes to award winners, discover a new favorite.
eLibrary for Kids
Browse kid's eBooks, eMagazines, and eAudiobooks available for free through Overdrive or Libby app.
BookFlix
BookFlix pairs video storybooks with nonfiction eBooks to create a fun link between fact and fiction. Scroll down to B in the A-Z list of Research Databases.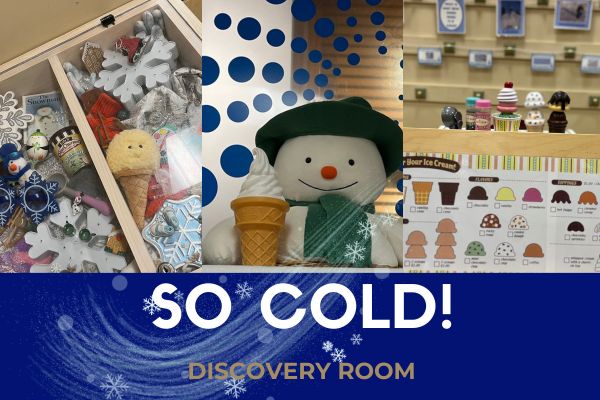 December 2023 - February 2024: The Discovery Room is ready for imaginative play centered around the wintery theme of "so cold" - snowflakes, snow friends, icy winds, and, of course, ice cream! Children can play ice cream parlor as they scoop, serve, and sell sweet...