This month, the library celebrates 125 years as a free, public library and 120 years of our Carnegie building! We're commemorating these anniversaries with a series of posts about the early days of the library.
For this post, we're going way back . . . to before the library was established in 1897 and before the Carnegie library was built in 1902. Stillwater had a subscription-based library dating back to 1859, created originally as a repository and reference library for government publications received from one of Minnesota's first U.S. senators, Henry M. Rice. By 1869, the library transitioned into a lending library.
In the early years, the small library collection moved frequently, from the offices of city founder and lumberman, John McKusick, to the city council offices, and even, famously, the city jail! After the library became a lending library, the collection was housed by various local businesses, including a general store, a drug store, a millinery, and a sewing machine shop. In these locations, the proprietor would act as the librarian, and the collection was seen as a way to bring people into the business.
By 1875, the collection had grown large enough for the library to begin renting its own space, first in the Hersey & Staples block, at the southeast corner of Main and Myrtle. Then in 1887, the library was moved to the Lecky Building, located at 210 North Main Street (next to the present-day location of Candyland). In 1895, the library moved to the Jassoy Block at the corner of Third Street and Chestnut. This was the library's last location prior to the establishment of the public library in late 1897.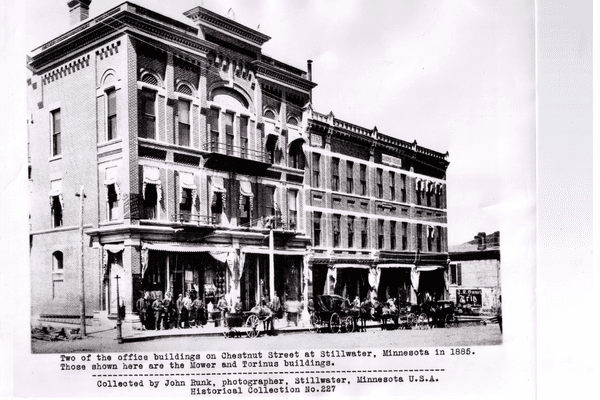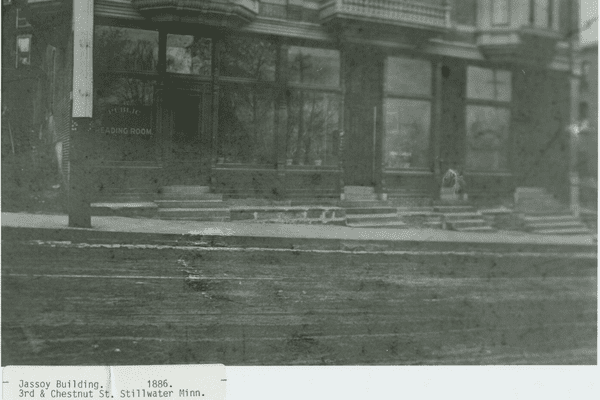 Left: The library was housed in a millinery shop located in the Mower building at Second and Chestnut for a short time in the 1870s. Right: The library was located in the Jassoy building, at Third and Chestnut from 1895 to 1898.
Photos are from the John Runk Collection at Stillwater Public Library.