The library has a number of resources to help you find out more about your Stillwater property and about the history of the city. 
Digitized Resources
The Stillwater Public Library partners with state organizations to digitize our collections and offer them nationwide.
Washington County Plat Atlas from 1901
This plat book of Washington County, Minnesota, 1901, contains 52 colored maps of township, city and village plats. Digitized copies are available through the Minnesota Digital Library.
Cartographic images of Stillwater
Building plans for a number of significant Stillwater sites, including the sunken gardens, schools, armory and lift bridge. Digitized copies are available through the Minnesota Digital Library.
Other Digitized Property Records
Sanborn Maps
Digitized up to 1924 by the Library of Congress, Sanborn maps were designed to assist fire insurance agents to show the size, shape, and construction of dwellings, commercial buildings, and factories and became an unrivaled source of information about buildings in American cities. Microfilm is available for 1924-1950.
Neighborhood Histories
The City of Stillwater, in cooperation with various federal and state partners, has developed reports on the history of Stillwater neighborhoods and commercial areas, concentrating on 16 neighborhoods most likely to qualify for national or local historic registers.
Heirloom Homes and Landmarks
The Heirloom and Landmark Sites program is a joint effort of the City of Stillwater and the Heritage Preservation Commission (HPC) to honor property owners who maintain the historical character of their buildings, sites, and structures.
Stillwater Commercial Historic District
Neighborhood Walking Tours
Instead of offering a standard guided walking tour, the Stillwater Heritage Preservation Commission developed this self-guided audio and visual walking tour, bringing story and place together, for both residents and visitors to the community.
Lens Flare
Funded by The Stillwater Foundation, Lens Flare Stillwater makes a connection between the historical photo collection of Mr. John Runk and the digital technology of today. Specifically, your mobile device or computer matches the location of a historical photo and to its appearance today.
Minnesota Historical Aerial Photographs Online
Historical Preservation Commission Photos
In 2008, the City of Stillwater's
Historic Preservation Commission
took
450 photos
of over 350 historic Stillwater properties. The commission also created a map of the properties and
Index.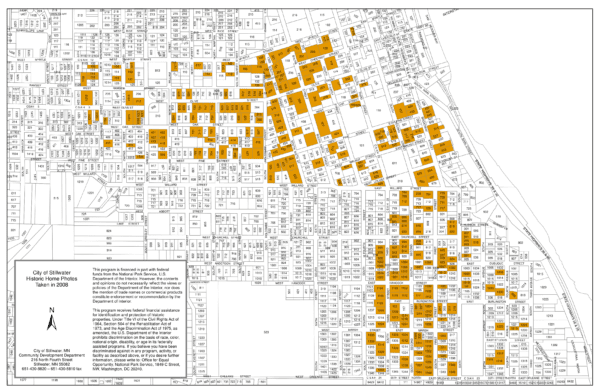 City Directories
The library holds city directories back to the late 1800s. Some of these are digitized, but a majority are in print and can be found in the building.
Plat atlases for Washington County, Minnesota
Plat atlases are available in print from the late 1880s to 2016. Washington County has a full GIS Viewer available for up to date maps.
Other Miscellaneous Maps
There are numerous historic and relevant maps in the collection: Bird's eye view maps of Stillwater in 1879, maps of the Minnesota Territory in 1850, St. Croix Watershed maps, and dozens more. 
Vertical Files
Volunteers have clipped newspaper articles about many of the town's most notable buildings and sites and have an index for historic information on most older buildings.  
Assessment and tax rolls
Microfilmed rolls of subdivisions of Washington County subdivisions, recording property for the years 1856-1901 and subsequent sample years 1910-1911, 1920-1921, 1930-1931, 1940-1941, 1950-1951, and 1960-1961. Tax lists from 1861-1960 give the owner's name; total value of personal property; the amount of state and local taxes; date of payment and receipt number; and a record of settlements, collections, and delinquencies.